TrueFire's Session Player puts you in the director's chair at the sessions View Larry's set-up with musicians, final takes and producer commentary. Control 10 camera angles with zoom, looping, rewind and fast forward. Call up the music score of charts for every instrument with a single click. Play and rehearse with sessions' audio tracks muting instruments as desired.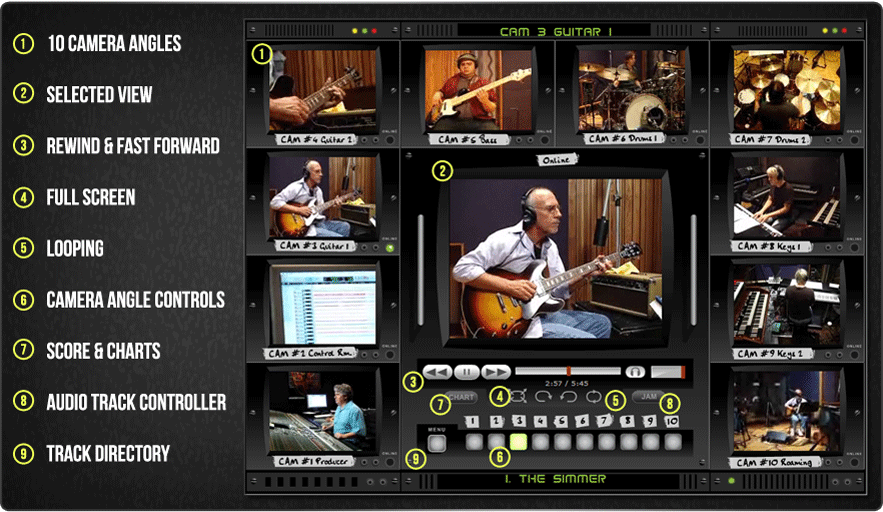 TrueFire's Session Video Player gives you an up-close and personal view of all stages in the original sessions. You'll sit in on Larry's rundowns with Csaba and the session players where they review the tune and discuss vibe, tempo, solos and the overall production qualities desired.
You'll control 10 camera angles for each of the final takes so you can see and hear session players perform their parts. You even have access to post-session commentaries from Larry and Csaba overviewing the creative and technical aspects of the sessions along with suggestions for adding new parts or otherwise tweaking the tracks. Additional videos cover other critical topics and provide solid guidance for licensing, packaging and marketing your end-product.
TrueFire's Session Video Player puts you squarely in the director's and producer's chair by giving you complete control over the sessions gives you controls for selecting various camera angles, zooming to full screen, rewinding or fast forwarding video, looping any section of the video, calling up the score and charts for any instrument in the mix, rehearsing with audio tracks and muting instruments.
As a Session Masters producer, your privileged access to the video library and TrueFire Session Player is the next best thing to have actually been in the sessions with Larry, Csaba, Travis, Toss and Jeff.